Archivos de la Categoría:
Optimización
This year, Code.org is launching the Hour of Code as part of the annual Computer Science Education Week (CSEdWeek), a celebration geared to encourage interest in the field and show that anyone can learn the basics.Today, we're surrounded by technology.
Leer más »
27 de noviembre de 2013. IBM Client Center Calle Corazón de María, 44, Madrid.  Cómo llegar El sector eléctrico es un campo complejo, donde el uso de técnicas avanzadas ofrece enormes posibilidades de mejora. Debido a ello, la investigación operativa
Leer más »
Optimization is often related to logistic problems, supply chains or resource management, where its aim is to get the more profit the better. However, this is a misconception of the real possibilities that optimization have. Today, we would like to
Leer más »
A set of free User Defined Functions for Microsoft Excel® to create Sparklines. The simple, intense, word-sized graphics invented by Edward Tufte & implemented by Fabrice Rimlinger. Very good graphics to show results; more than Excel can offer. Enjoy it!
Leer más »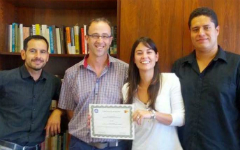 Estudiantes de la Universidad Politécnica de Madrid (UPM) y de la Universidad Nacional del Litoral en Argentina (UNL), integrados en el equipo OptNAR, han obtenido la segunda posición en el concurso internacional AIMMS-MOPTA 2013 "Optimization Modeling Competition", que organiza la
Leer más »
Three UPM students are finalist AIMMS/MOPTA modeling competition. The OptNAR team, consisting of Raúl Pulido, Natalia Ibañez and Adrián Aguirre (INTEC), will present the results of their solution to a specific 'Operating theater planning problem' at the MOPTA conference on
Leer más »
How algorithms rule the world The NSA revelations highlight the role sophisticated algorithms play in sifting through masses of data. But more surprising is their widespread use in our everyday lives. So should we be more wary of their power?
Leer más »
In a sense, all business boils down to math. But some companies have tougher equations to solve than others. At UPS, the average driver makes about 120 deliveries per day, says Jack Levis, the shipping giant's director of process management.
Leer más »
Ideas Originales es una empresa de estudios de mercado que se encarga de hacer encuestas para empresas a lo largo del territorio español. Un tipo de trabajoque tiene que hacer es el de hacer auditorías trimestrales a tiendas de una
Leer más »
Air Liquide ha seleccionado a baobab soluciones para que desarrolle su plataforma de optimización para apoyar las decisiones de negocios a medio y a corto plazo. Air Liquide es líder mundial en producción de gases para la industria (como la
Leer más »