Archivos de la Categoría:
Optimización
Las empresas han hecho muchos esfuerzos en la recogida de datos y en las transacciones de forma automática en sus cadena de suministro (RFID, etc.). Estas innovaciones han permitido reducir costes, pero no son punto final. Al revés, son esencialmente […]
Leer más »
El próximo 26 de Febrero de 2014 se celebrarán en Zaragoza las II Jornadas TICS4LOG (Tecnologías de la Información y de las Comunicaciones aplicadas a la Logística) organizadas por el ITA y TECNUN, en colaboración con Logistop y Planetic. baobab […]
Leer más »
The IFORS 2014 Triennial Conference will be held in Barcelona, Spain, July 13-18 2014. It will bring operational researchers from around the globe together. The deadline for Abstract submissions is 31 January 2014. For more information, visit: http://ifors2014.upc.edu/home/ifors.
Leer más »
This year, Code.org is launching the Hour of Code as part of the annual Computer Science Education Week (CSEdWeek), a celebration geared to encourage interest in the field and show that anyone can learn the basics.Today, we're surrounded by technology. […]
Leer más »
27 de noviembre de 2013. IBM Client Center Calle Corazón de María, 44, Madrid.  Cómo llegar El sector eléctrico es un campo complejo, donde el uso de técnicas avanzadas ofrece enormes posibilidades de mejora. Debido a ello, la investigación operativa […]
Leer más »
Optimization is often related to logistic problems, supply chains or resource management, where its aim is to get the more profit the better. However, this is a misconception of the real possibilities that optimization have. Today, we would like to […]
Leer más »
A set of free User Defined Functions for Microsoft Excel® to create Sparklines. The simple, intense, word-sized graphics invented by Edward Tufte & implemented by Fabrice Rimlinger. Very good graphics to show results; more than Excel can offer. Enjoy it! […]
Leer más »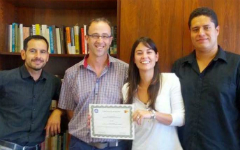 Estudiantes de la Universidad Politécnica de Madrid (UPM) y de la Universidad Nacional del Litoral en Argentina (UNL), integrados en el equipo OptNAR, han obtenido la segunda posición en el concurso internacional AIMMS-MOPTA 2013 "Optimization Modeling Competition", que organiza la […]
Leer más »
Three UPM students are finalist AIMMS/MOPTA modeling competition. The OptNAR team, consisting of Raúl Pulido, Natalia Ibañez and Adrián Aguirre (INTEC), will present the results of their solution to a specific 'Operating theater planning problem' at the MOPTA conference on […]
Leer más »
How algorithms rule the world The NSA revelations highlight the role sophisticated algorithms play in sifting through masses of data. But more surprising is their widespread use in our everyday lives. So should we be more wary of their power? […]
Leer más »